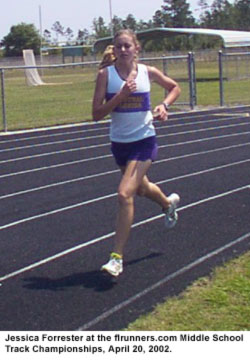 This year\'s freshman class of distance runners is probably the most talented we have seen in some time. On the girls side many already know about Amanda Quick and Amanda Hintze--and of course Melissa Kotchman, who has already seen her share of state meets on the high school level. There is one high school rookie though who has been often overlooked, but she sure has made us take notice! We are very proud to announce our first ever female Athlete of the Week: Jessica Forrester.
The freshman at Bloomingdale High School has not wasted any time making her case; she won her first official high school meet last Thursday at Riverview\'s East Hillsborough Invitational. She made the accurate 5K course look easy, prancing in easily to a jaunty 19:11. It was by no means a pace-pusher for the already very experienced runner.
\"I feel good..it was a decent workout,\" she said after the win. Forrester moved through the first mile in second place, drafting behind Sara Hall of Plant City. The pace though was a little too slow for young Jessica\'s liking, and she felt it time for her to take over the lead. By the end of the race, she had opened up a lead of 58 seconds over 2nd place Hall, who clocked a very respectable 20:13.
During her years at Brandon\'s Burns MS she was coached by her father, Jack, who has since backed off to allow Bloomingdale\'s coaching staff to take over the training of the starlett. \"She has never really done much mileage,\" her father told flrunners.com in a phone interview, \"before June she had (not gone much) over 20 miles per week. In July we upped that to about 35 miles per week and since backed off again in August.\"
Now on the high school level under the guiding hands of head coach George Garner and Coach Littleton, who helped lead his own daugher (Amber Littleton) to much success, Jessica looks primed to become one of the state\'s very elite over the next four years. \"Oh, she\'s just getting started,\" Garner says with a certain glow in his voice, \"she has barely tapped her potential at this point.\" As bright as the freshman\'s future individual successes might look, right now the focus is on developping the young Bloomingdale girls team, which features three freshman serving as the top three runners on the varsity squad.
\"They have a young team with a lot of potential,\" the elder Forrester said. Jessica, along with her coaches and father decided to stick with the team in the large school division at the upcoming flrunners.com Invitational, rather than entering the race of champions as an individual. \"We are staying in the large varsity...we really want to try to get the team going this year.\"
Last spring Forrester took Co-MVP honors at the flrunners.com Middle School Track Championship at Flagler Palm Coast. She swept the distance events winning the 800, 1600, and 3200 titles against some great middle school competition. The 14-year-old has been competing with the Central Florida Gliders for years in AAU and USATF track meets (winning numerous state and national titles for her age division in the 1500 and 3000). She also is no stranger to road races; she was the first female in a March 5K at Dade City (19:23) and back in February her 19:38 at the Gasparilla 5K put her 14 seconds in front of fellow freshman Melissa Kotchman, who returns with the second best 3 mile time from last season.
Her impressive East Hillsborough win was not, however, a 5000m personal record for Jessica. We tracked down summer road race results from the Racquet Run for Riley 5K in Indiana, where the young lady visited in July. Way up in Indianapolis the then 8th grader clocked the second fastest female time in the race: a 18:44.2 on the USATF certified course.
Congratulations, Jessica! And good luck this year!