27th Annual Canes Cross Country Classic


SCHEDULE


-6:50-7:15 a.m. Coaches pick up team packets at amphitheater near finish line

-time TBA a.m.: Start of GIRLS VARSITY race on 33rd Ave Dr W at 51st St W

-time TBA a.m.: Start of BOYS VARSITY raceon 33rd Ave Dr W at 51st St W
-8:00 a.m.: Start of open 5K race (NO high school teams allowed to start late)

-9:00 a.m.: Start of high school awards ceremony. Awards will not be mailed so please stay to pick up your awards. Any unclaimed awards will be recycled.
-9:15 a.m.: Start of 1K
-9:30 a.m.: Start of open 5K door prizes and awards


Shirts will be available for purchase for $10 each. Please inform your athletes or they may purchase in advance at http://www.CanesClassic.com
* The bigger, better, cleaner restrooms are near the starting line on 33rd Ave Dr W by the soccer fields. *




FREE PARKING. FREE ENTRY FOR SPECTATORS.

Bus parking: Colonial Baptist Church, 2616 51st St W, Bradenton, FL 34209 or in the main entrance at GT Bray Park at 51st St W & 33rd Ave Dr W. There will be no bus parking or drop offs or turning around at the 51st Street Park (dog park, amphitheater, & finish area) entrance.





Car parking: main GT Bray Park parking lots near soccer fields and restrooms. Intersection of 33rd Ave Dr W and 51st St W.

Team tent area is in the grass behind the amphitheater or in the pavilions. Teams may NOT set up in the amphitheater, amphitheater seating area, or on the soccer fields.
COURSE MAP:
* Please print your own copies of the 5K course map. *
We do not provide copies of the map.
This is a flat, fast, spectator friendly course with more hard surface than our traditional cross country course.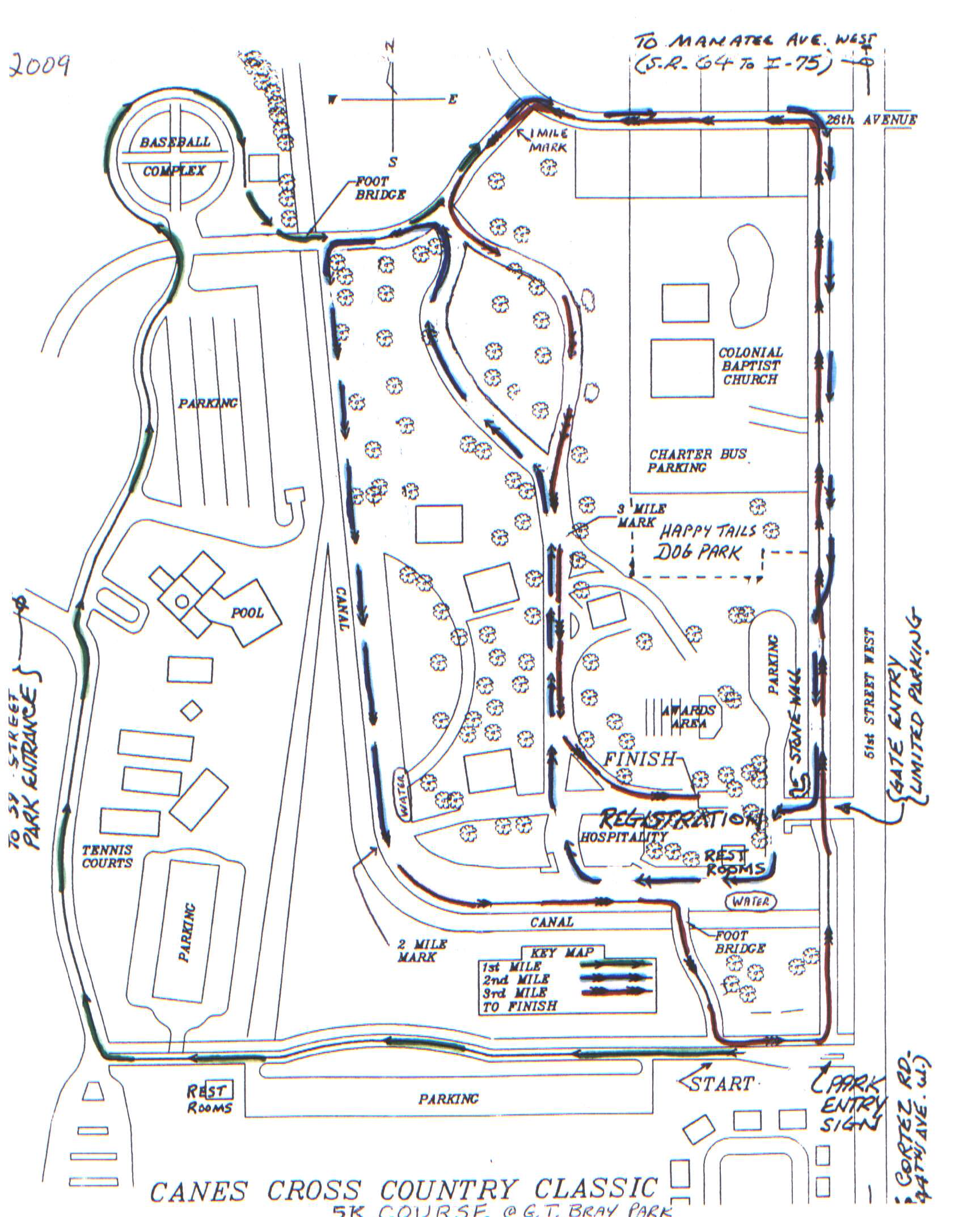 JPG:
www.runnergirl.com/races/canesclassic/images/cccc_map_rev2009.jpg


HOW TO ENTER:

We are limiting this meet to 10 teams.

Please contact Coach Rae Ann Darling Reed to confirm your spot in the meet. We must limit this meet to the first 10 schools who send in their payments.

There are no refunds if meet is postponed or cancelled due to weather since meet expenses will already be paid for in advance. Thank you.

Please mail your checks payable to:

Run Manatee, Attn: Rae Ann Darling Reed, 8709 53rd Ter E, Bradenton, FL 34211

or contact Coach Rae Ann Darling Reed for email address to pay via PayPal (credit card)

$200 per school or $125 for only one gender.
Here is the W9 if you need it.
You may run an unlimited number of athletes in the varsity races. There are no JV races.

To register as an individual in the open 5K at 8:00 a.m., please visit CanesClassic.com




Past results: CanesClassic.com



Thank you,

Coach Rae Ann Darling Reed

Manatee High School XC

coach@runnergirl.com

941.586.9375