County by County Results here:
http://runnergirl.com/results.shtml
4th Annual Tri-County XC Championship
This meet is for Charlotte County, Manatee County, and Sarasota County schools only.
GT Bray Park, 2900 51st St W, Bradenton, FL 34209Saturday, October 15, 2016
Meet t-shirts will be for sale!
ENTRY FEE:$150 per school for both genders or $75 per gender per team.Checks payable to: Manatee High School XCMail to: Manatee High School XC, Attn: Rae Ann Darling Reed, 902 33rd St Ct W, Bradenton, FL 34205.Or if you wish to pay by
PayPal
, please send me an email with the school name and email address where I should send the invoice. Otherwise, if you are paying by check, print your invoice from the view/edit entries page on the lower right side.
Entry fees must be paid in order to pick up team packets on race morning.
FREE PARKING. FREE ENTRY FOR SPECTATORS.SCHEDULE:7:00 a.m. - coaches' meeting8:00 a.m. - girls' race (unlimited)8:30 a.m. - boys' race (unlimited)AWARD TIMES ARE APPROXIMATE: 9:15 a.m. - Sarasota County Awards (presented by Sarasota County host)9:30 a.m. - Charlotte County Awards (presented by Charlotte County host)9:45 a.m. - Manatee County Awards (presented by Bradenton Christian School)10:00 a.m. - Tri-County Awards (presented by Bradenton Christian School)
* Note: Manatee High School is also hosting the Manatee County Middle School XC Championship which consists of one girls race and one boys race (3K each) immediately following the completion of the high school races. High school teams and spectators will need to remain clear of the course until the middle school races are complete. *
AWARDS:Manatee High School will take care of the Tri-County awards. Bradenton Christian School will take care of the Manatee County awards. Charlotte and Sarasota Counties will need to cover their own county awards.PARKING:
Bus parking: Colonial Baptist Church, 2616 51st St W, Bradenton, FL 34209 or in the main entrance at GT Bray Park at 51st St W & 33rd Ave Dr W. There will be no bus parking or drop offs or turning around in the 51st Street Park (dog park, amphitheater, & finish area) parking lot entrance.
Car parking: main GT Bray Park parking lots near soccer fields, restrooms, tennis courts, and softball fields. Enter GT Bray Park from 51st Street W at intersection of 33rd Ave Dr W and 51st St W or enter GT Bray Park from 59th Street West at intersection of 59th St W and 33rd Ave Dr W.TEAM TENTS:
Team area is in the grass behind the amphitheater or in the pavilions. Teams may NOT set up in the amphitheater, amphitheater seating area, or on the soccer fields.COURSE MAP:
Please print your own copies of the 5K course map.
We do not provide copies of the map.The course is on grass, trail, and sidewalk. The start will be on the north soccer fields.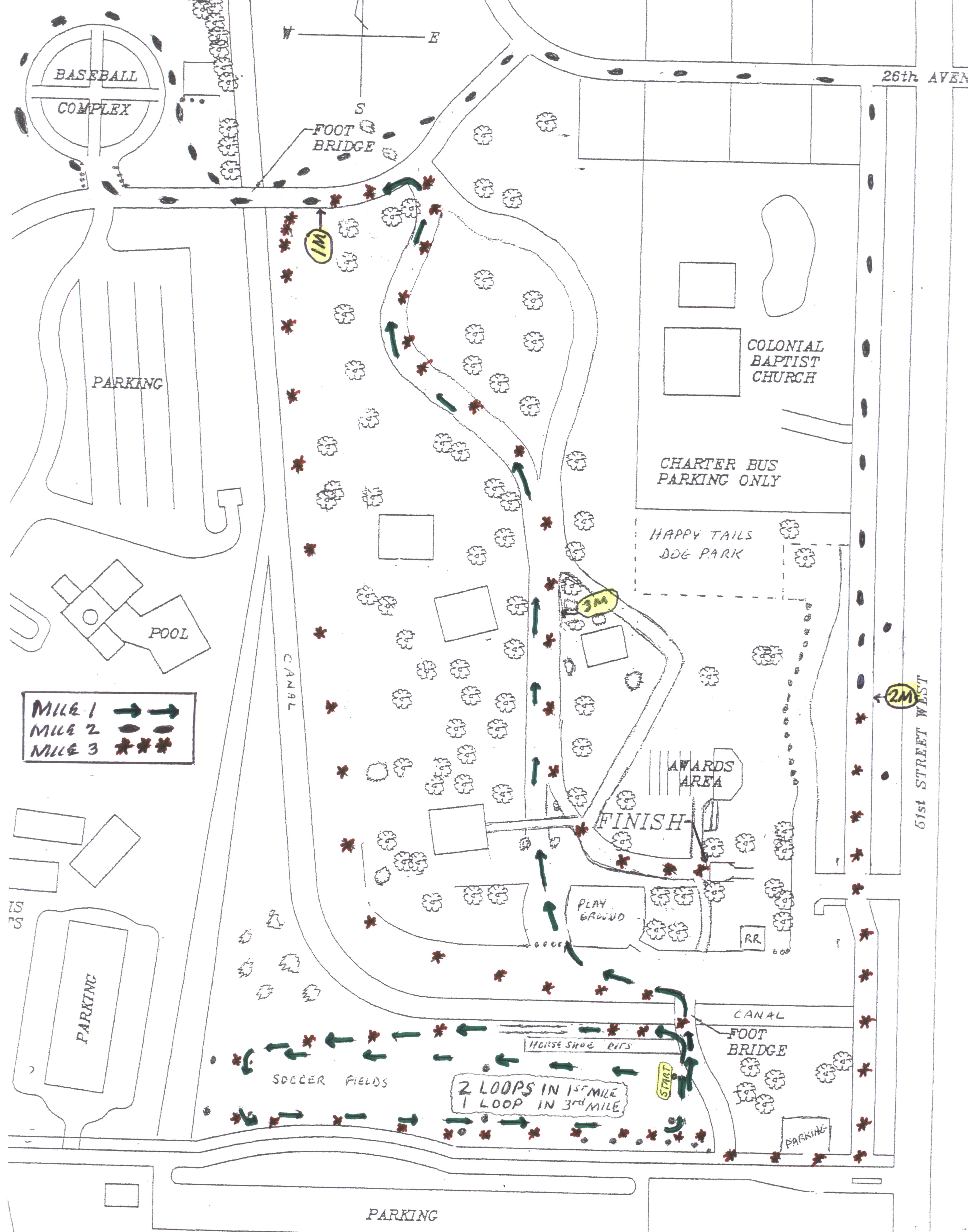 PDF:
runnergirl.com/manatee/images/inv_course_map.pdf
JPG:
runnergirl.com/manatee/images/map_gtbray_new_xc.jpg
Thank you,Coach Rae Ann Darling ReedManatee High School XCcoach@runnergirl.com941.586.9375
Registration help:
www.milesplit.us/pages/Online_Meet_Reg_Instructions