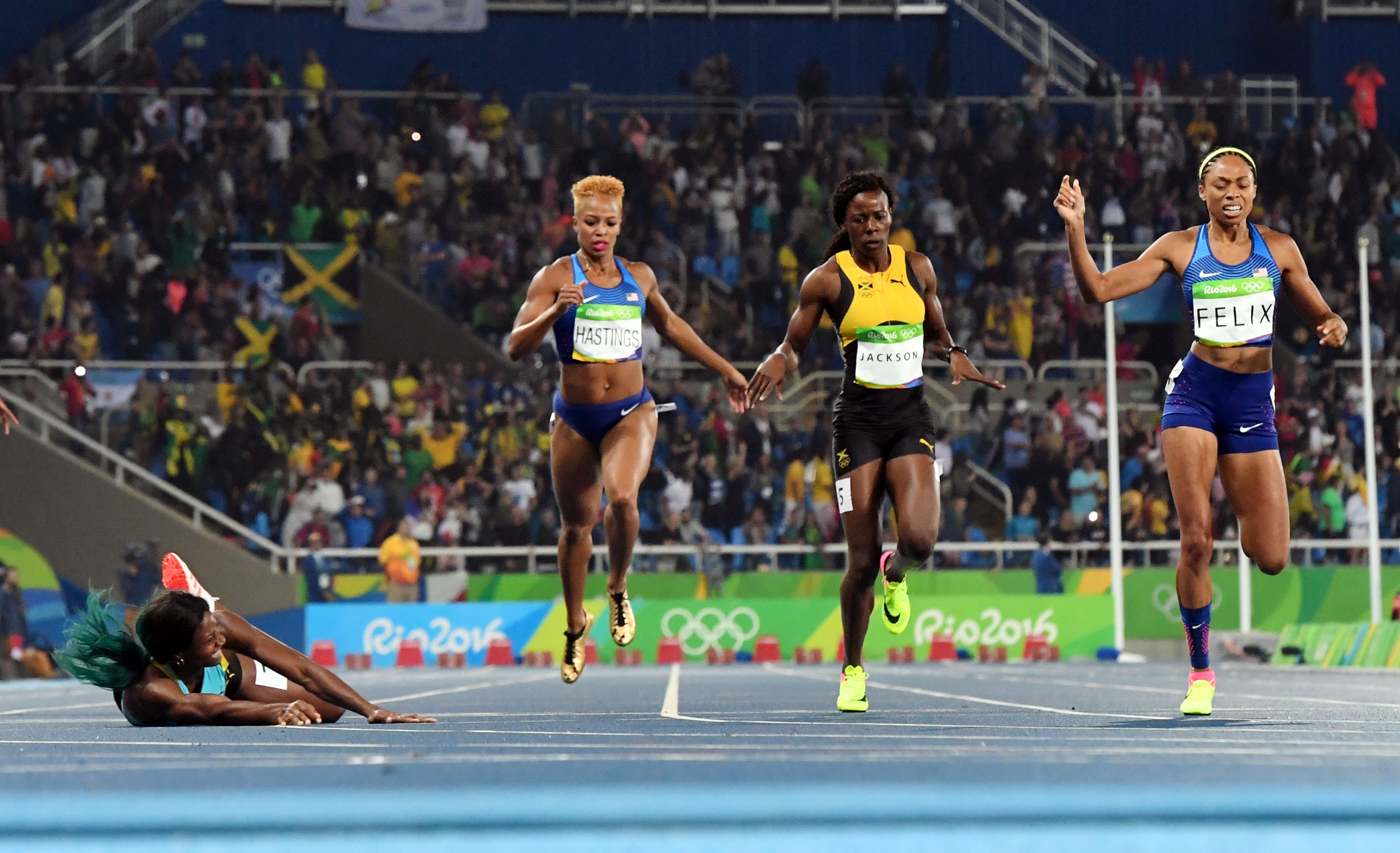 Photo by James Lang - USA TODAY Sports


The highlight of day four of track and field action was undoubtedly "the dive" by Shaunae Miller. The Adidas athlete who competes with the Pure Athletics Training group in Clermont, Florida, won the 400m gold medal with a personal best of 49.44, .07 seconds faster than 2012 Olympic gold medalist Allyson Felix.
Coach Gary Evans had this to say after Miller's gold medal performance.

"Shaunae stuck to the game plan. Last year at worlds Felix got out on us like a rocket and it was too late for us to respond. This year we said we getting out and catch me if you can. Both ladies ran a race what champions are made off."


Watch: Shaunae & Rest Of Pure Athletics Group Final Workout Before Rio (Broken 500's - 250,150,50,50) & Post Workout Interview
Osceola class of 2011 graduate Tynia Gaither was not happy with her fifth place finish in the opening round of the 100m dash. Gaither told flrunners.com that that definitely served as motivation for her 200m performance. The recent USC graduate finished 3rd in her heat behind Jenna Prandini of the U.S. and Lisa Mayer of Germany in a time of 22.90. She called her race yesterday just okay.

"This past month has been a struggle for me so I'm just trying to beat them with heart and willpower."
Gaither will be in the first semifinal Tuesday night at 10:00 pm. in lane one.
Coach Joey Scott who heads up the Tru Fit Athletics group had one of his Florida hurdles Jeffrey Julmis (Fort Lauderale High School, Haiti) advance to Tuesday night's semifinals while former FIU standout Ronald Forbes just missed out. Coach Scott talked about both hurdlers opening round performance.

"Jeff was a little rough at the beginning of the race but pulled it together at the end. Tonight the goal is to execute each hurdle as if it's a new race each time. He knows if his race is clean than he will be victorious in the semis. Even though Ron failed to make it out of the prelims his story alone will prove that he is relentless. Right after Ron ran one of the fastest times in the world he had a season ending injury tearing his soleus. He was supposed to be out for a year due to the injury. His determination got him back to practice in 12 weeks."

Scott adds that doctors told him they had never seen anything like that before. The 12th week was last week and Forbe's first time going over any hurdles at all. The coach debated taking him out of the race, but Forbes insisted he didn't want to quit.

"He looked at me and said he refused to have his country flag not cross the line no matter the outcome. Out of all the races last night every athlete on the warm up track respected his race the most because they knew what his has been through over the last couple of months. This athlete is by far a mental genius."