HOW TO ENTER:

We will limit the number of teams due to having only one girls race and one boys race. We will have middle school races after the high school races and we cannot push those any later in the morning. We are limited on the number of hours we can use the soccer field portion of our course.

Please contact Coach Rae Ann Darling Reed to confirm your spot in the meet and get the password.

There are no refunds if meet is postponed or cancelled due to weather since meet expenses will already be paid for in advance. Thank you.

Please mail your check payable to:

Run Manatee, 8709 53rd Ter E, Bradenton, FL 34211

$175 per school or $100 for only one gender
CONFIRMED TEAMS:
Admiral Farragut Academy
Booker HS
Cardinal Mooney HS
Manatee HS
Out of Door Academy
Palmetto Senior HS
Sarasota Christian School
Sarasota HS
St. Stephen's Episcopal School
Braden River HS
Bayshore HS
Bradenton Christian School
Riverview (Sarasota) HS
Winter Haven Christian School
Lakewood Ranch HS
Lely HS
SCHEDULE (subject to change):
7:15 a.m. - coaches' meeting
7:45 a.m. - Girls high school 5K race
8:15 a.m. - Boys high school 5K race
8:45 a.m. - Girls awards, Boys to follow
9:15 a.m. - Girls middle school 3K race
9:30 a.m. - Boys middle school 3K race
No cars parked in the 51st St Park parking lot (2900 51st St W - main parking lot by amphitheater/finish line) will be allowed to leave until middle school races are over. If you need to leave prior to 9:45-10:00 a.m. please park in the Baptist Church parking lot or the main parking lots in GT Bray Park.

*** PLEASE NOTE: The bridge to get from the amphitheater/finish area to the starting line is narrow and will be shut down to all athletes and spectators to allow the previous race's runners to finish without anyone in their way. The bridge is only wide enough for two people. Please inform your athletes, coaches, parents, and spectators that they must clear the bridge by the times indicated above if they do wish to watch the start of the next race. Our volunteers will be instructed to NOT allow anyone over the bridge if they will potentially interfere with the finishing runners so please get your teams to the start area early. They will be able to warm up on the soccer fields and use the larger, nicer restrooms by the starting line and soccer fields as well. There will be middle school races taking place after the high school races so the bridge will be shut down until all middle school athletes have cleared it as well. ***

FREE PARKING. FREE ENTRY FOR SPECTATORS.

Bus parking: Colonial Baptist Church, 2616 51st St W, Bradenton, FL 34209 or in the main entrance at GT Bray Park at 51st St W & 33rd Ave Dr W. There will be no bus parking or drop offs or turning around at the 51st Street Park (dog park, amphitheater, & finish area) entrance.



Car parking: main GT Bray Park parking lots near soccer fields and restrooms. Intersection of 33rd Ave Dr W and 51st St W.

Team tent area is in the grass behind the amphitheater or in the pavilions. Teams may NOT set up in the amphitheater, amphitheater seating area, or on the soccer fields.



COURSE MAP:

* Please print your own copies of the 5K course map. * We do NOT provide copies of the map.

Fast, cross country course - great for spectators too!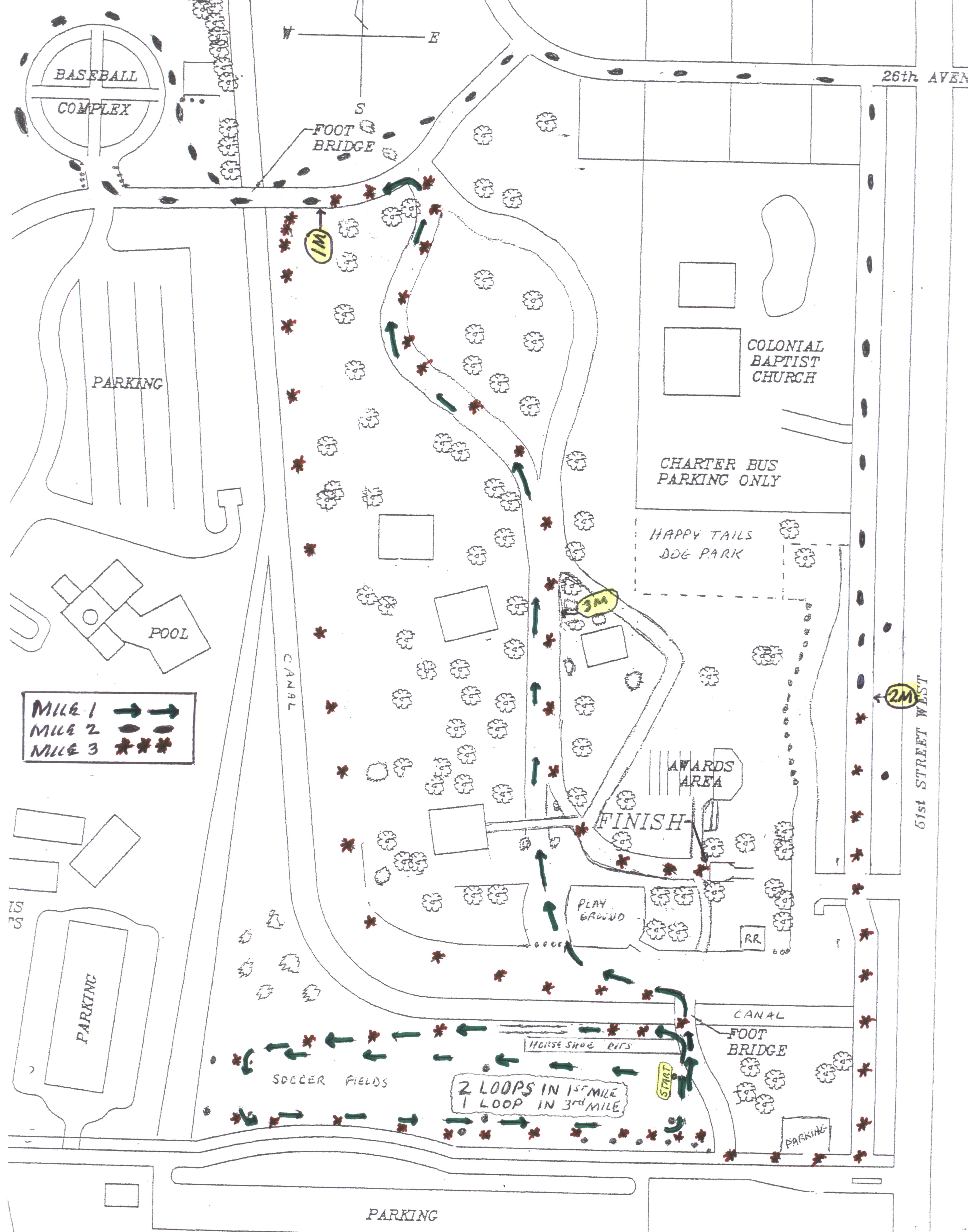 PDF: runnergirl.com/manatee/images/inv_course_map.pdf

JPG: runnergirl.com/manatee/images/map_gtbray_new_xc.jpg

Thank you,

Coach Rae Ann Darling Reed

Manatee High School XC

coach@runnergirl.com

941.586.9375