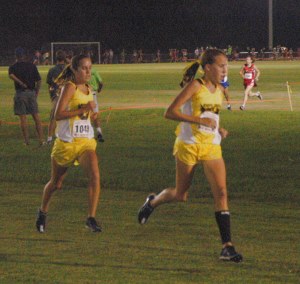 Few high-school girls' track teams in the United States are fortunate enough to feature even one sub-11:00 two-miler. But fronting a cross-country juggernaut in Boca Raton -- returning state 2A champion Pope John Paul II -- are two such athletes, a dynamic duo that forms perhaps the most potent 1-2 punch in the Southeast. Senior Nicole Schappert notched a 10:27 deuce last spring, while junior Jacqueline Areson put up marks of 10:57 for the two-mile and 4:49 for the mile.
These two extraordinary athletes are at the forefront of PJPII's bid to defend its state championship crown, but they aren't alone; standing behind the duo is a more-than-capable group of harrietrs. The Eagles return their entire top seven from last fall -- in fact, the runners filling the three through seven positions last fall were all either freshmen or sophomores, and Schappert is the team's lone upperclassman. The Eagles second in the Southeast region in the Nike Team Nationals pre-season rankings.
Coach Jay Lower is in his seventh year at the helm; prior to taking over as head coach, he served two years as an assistant. (Interestingly, his assistant, Nate Robinson, is the head track and field coach in the spring, when Lower assumes an assistant role himself.) The Eagles have typically flown into the top ten at the state meet during Lower's tenure, but 2003 marked their first state title since 1993.
Lower's philosophy is best described as process-oriented rather than outcome oriented. "If we train hard and work hard," he says, "the results will take care of themselves. I don't push the fact that we're state champs; if we run to our potential, we expect to do well." Individually, he expects his top two to again contend for the top two 2A positions; last year Schappert won the 5K race in 18:32, while Areson was second in 18:44.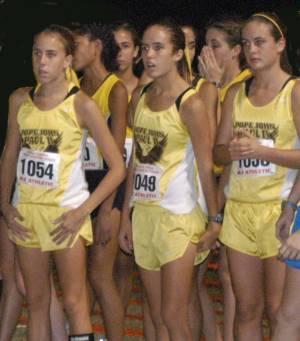 Despite the difficulty of preparing for an endurance sport in the sultry climate of a South Florida summer, Lower says the Eagles are fit and ready to roll. Four girls, including Schappert -- actively being recruited by such college powerhouses as Stanford, North Carolina and Duke -- attended a running camp in North Carolina, while another four, including Areson, spent time at a camp at Florida State University. Although Schappert and Areson are prodigious talents -- Schappert was 24th at the prestigious Footlocker South championship race in Charlotte, N.C. last fall, while Areson was 61st and 15th among sophomores -- their training styles provide an interesting contrast. Schappert thrives on high-volume work, with her totals ranging up to 40 or 45 miles a week. Areson runs only 25 to 30 miles a week, but runs it fast.
The team's chief 2A rival is likely to be the Bolles School of Jacksonville, which finished third last fall and also returns its entire top seven. Bishop Kenny, also of Jacksonville, was only five points behind the Eagles in 2003, but lost its two and three runners to graduation.
Lower says that having his runners train in distinct groups helps foster a sense of purpose. "Jackie and Nicole by themselves make up the 'A' group, our three through nine runners are the 'B' group, and the rest of the girls form the 'C' group," he says. As if his star-studded cast of returnees didn't provide a formidable enough line-up, Lower notes that two incoming freshmen are likely to have a significant impact.
Lower stresses that in spite of leading a highly successful and competitive team, a key to the Eagles' success is simply keeping things fun. "We stress improvement over objective goals," he says. "We have team dinners, have mass together, and will spend two days at Blizzard Beach after the Disney Meet." The team's first big test will be the Great American Cross-Country Festival in North Carolina on October 2.
Given his new faces as well as the usual vagaries of the sport, Lower doesn't expect the identity of his top runners to crystallize by around mid-October. "We won't know until halfway through the season exactly what the identity of our varsity is," he says, noting that at this point his five through nine runners are essentially interchangeable. Given the Eagles' powerful one-two punch and their youthful yet proven supporting cast, it's a pleasant uncertainty to face.