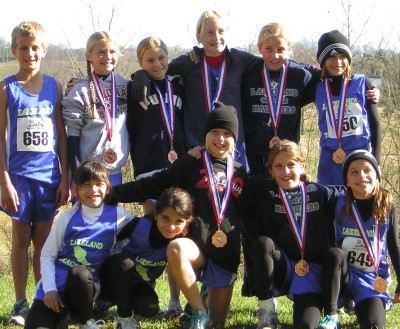 Front Row: Katie Morrow, Mary Lanzino, Mallory White, Claire Jarvis, Charlotte (Charlie) Eaves
Back Row: Mark Mutz, Kali Carney, Carley Quick, Alyssa Burkert, Grace Vandergrift, Rebecca (Spookie) Eaves
Paul White has known for some time that his daughter Mallory is a special athlete. Now, White is helping ensure that a remarkable number of Mallory's schoolmates are discovering the joys of competitive track and field as well.
White, a 1979 graduate of Zephyr Hills High School who ran 4:30 and 10:01 for the mile and two-mile as a prep and then competed for two years at Oral Roberts University, started the Lakeland Track Club during the fall of 2003 so that Mallory, then 9 and already a national age-group record holder in the high jump at 3' 11 ½", could be part of a team. "Don Denoon at the National Triathlon Center told me that a club would help keep Mallory's Interests in running," chuckles White, "and would be a lot more fun for her than just running with her old man all the time!"
White's energetic approach quickly paid off. Only weeks after the club was founded, its Bantam (10-and-under) team finished 8th at the AAU National Cross-Country Championships. Less than a year and a half later, the club -- comprising mainly students at Lakeland Christian School, where the team meets to run -- will have over 100 kids on the roster. White has them running for six weeks in the fall in six weeks in the spring; incentives are given for reaching certain mileage totals, such as a club T-shirt at 15 miles and awards for every 10 thereafter.
Despite this seeming emphasis on numbers, the amount of running any one runner logs is limited. For example, the top mileage earner last fall was 8-year-old Charlie Eaves; she ran 178 miles in seven weeks, about 3 ½ miles a day. "My goal is to keep it fun and let them achieve their own goals," says White, who trains with the team and still runs 5k's in the 17:00 range when traveling with them to races. "At the end of the season we have an awards presentation where we present great trophies that the Lakeland Runners Club members have donated to us. The (LRC) runners enjoy recycling the trophies and love to see the kids they inspire at local races."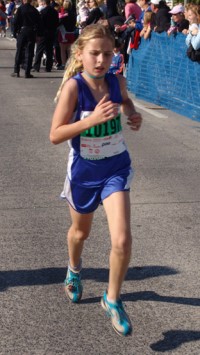 Mallory White heading toward a 19:57 finish at the Gasparilla 5K on Saturday
White's general training approach includes three-mile runs on grass, "light poles" (sprints of about 100 meters), ample amounts of water, and relays for fun. They'll occasionally run up to a 12 400's with about 90 seconds' rest in between. Sometimes they'll run hill repeats.
In response to the inevitable too-much-too-soon issue brought before coaches of youth runners, White notes, "We run for 25 minutes before school and 25 minutes after school. This would be a vacation for a gymnast or swimmer." In two years, he says, none of the runners has been injured. He also sees benefits spilling beyond the borders of the track. "Everyone comes because they love to run and they love to be with their friends," says White, "and I also hear from their parents how grades are improving and how diligent the kids are becoming."
Mallory, the youngest of five children, is the multi-faceted star of a talented group. In 2004 she twice broke the national indoor record for Bantams in 1500m racewalk. Her best times at age 10 included 2:39 for the 800m, 5:19 for the 1500m and 12:33 for two miles, and the sometimes-soccer player has even had success throwing the shot. In December, she took 4th in the Bantam division in the AAU Cross-Country Nationals in Kingsport, Tenn. "I think she's such a good competitor because she was always trying to keep up with all of us!" says white, noting that Oveido's Jenny Barringer is among the athletes Mallory admires most.
White sees running not as an end in itself but as a means to greater success – tangible and metaphysical. "I believe long-term success has to be tied to having a purpose greater than yourself," says White. "Mallory runs to glorify God with the talents he has given her. Secondly, she wants to help others realize their potential as runners and represent LCS as well. By achieving the above she will have success beyond her wildest dreams and be happy and fulfilled in the process."
Finally, White looks to keep the formula simple. "Running success is easy if you love to run. So if I succeed in making running fun for them, they learn to love running."

LTC 5K PR's
Grade   Age
4       10            Mallory White           19:18
5       11            Spookie Eaves           19:53
5       11            Mark Mutz               20:19
5       10            Claire Jarvis           22:17
3        9            Charlie Eaves (girl)    22:18
5       11            Ellen  Sharpe           23:25
3        9            Emily Murphy            23:28
2        7            Chase Turbeville        25:26
3        9            Katie Morrow            26:31
3        8            Mary Lanzino            26:44