By Johanna Gretschel For FloTrack
Justin Gatlin, who won the world 100m title at age 35 this summer, has reportedly fired Dennis Mitchell after the coach was implicated in an undercover doping investigation by The Telegraph, a London-based newspaper.
Undercover reporters visited Gatlin's training camp in Florida this summer and fall, where they posed as representatives from a production company seeking training advice for the star of an upcoming film about athletics.
The journalists secretly recorded conversations with Mitchell and sports agent Robert Wagner, both of whom reportedly recommended using performance-enhancing drugs to train the fictional actor, offered to obtain said drugs for the actor, described a widespread culture of PED use in track and field, and detailed how to avoid detection.
According to The Telegraph, Wagner offered to both "supply and administer testosterone and human-growth hormone" to the actor via an Austrian doctor with whom he was personally familiar for a fee of $250,000.
Wagner was allegedly recorded saying that he was constantly involved in the procurement of PEDs for track and field athletes.
The Telegraph quoted Wagner describing the timeline of PED procurement and administration: "Three months ago, before the season ended. Right now. Obviously, and as soon as the season starts."
He also specifically named Mitchell and Gatlin as an administrator and user.
"You think Justin is not doing this? Do you think Dennis [Mitchell] wasn't doing this? Everybody does it," he alleged, according to The Telegraph.
Justin Gatlin's 2017 world championships win in the 100m over world record holder Usain Bolt was the biggest shock of the summer.
Mitchell, who won Olympic gold in 1992 and two world titles in the '90s as part of Team USA's 4x100m relay, came under fire in 1998 for testing positive for testosterone and offered the infamous excuse that his hormone levels were high due to "five bottles of beer and sex with his wife at least four times."
While USATF accepted Mitchell's story at the time, the IAAF did not, and subsequently issued the sprinter a two-year ban from the sport. He eventually revealed during the BALCO scandal and trial proceedings that his coach, Trevor Graham, had injected him with human growth hormones.
Graham, who is banned from sport for life by the USOC and USATF, was Gatlin's coach when the Olympic champion tested positive in 2006. Gatlin never admitted to using steroids, though he served a four-year ban from 2006 to 2010.
Mitchell was named the USATF relay coach in 2014, a position he held until stepping down last year ahead of the IAAF World Championships.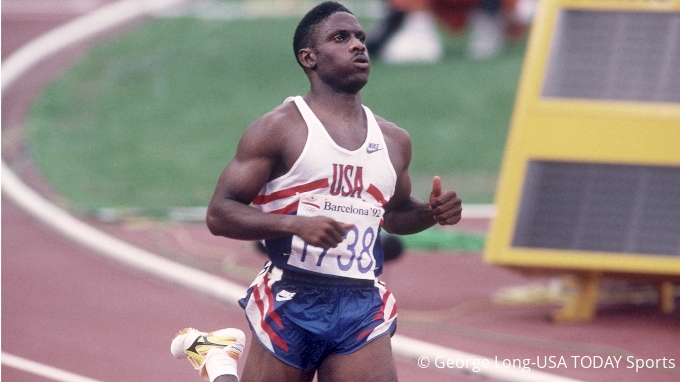 Dennis Mitchell competes at the 1992 Olympic Games.
The current reaction to this story is a lot of backtracking by the aforementioned parties.
Wagner claims that he was exaggerating about his knowledge of PEDs and his colleagues' use of them in order to land the job with the production company. He also says he informed the IAAF integrity unit about the interaction.
When Gatlin first met the undercover reporters, he reportedly said that Wagner had worked as his agent for the past five years alongside Renaldo Nehemiah. Now, Nehemiah has said on the record that Wagner has not worked with his client since 2015 and the movie deal was a "one-off."
Wagner works in the Monaco office of Octagon, the talent agency in which Nehemiah is the Director of Track and Field. Wagner officially manages Rio Olympic 400m hurdles champion Dalilah Muhammad as well as Kaylin Whitney, Isiah Young, and Erik Sowinski.
Both Whitney and Young are also members of Mitchell's training group with Gatlin.
Gatlin's legal team told The Telegraph "that Wagner's role representing the sprinter on a potential involvement in the film project was a 'one-off' and that it would not be 'a stretch to think that Mitchell and Wagner were putting on quite a show to impress who they thought were "Hollywood" producers.'"
Wagner said he has not doped any athletes, and Mitchell said it was false that Gatlin is taking drugs.